What 5G phones are available?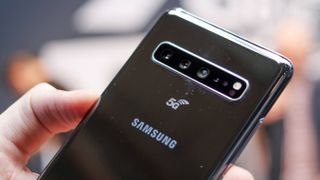 A number of 5G phone announcements have been made in 2019, however only a handful are currently available, and the choice is further limited by country and carrier.
In the US, Motorola's 5G Moto Mod provides next-generation connectivity to a select few Moto Z handsets, plus the Samsung Galaxy S10 5G is also available.
For those in the UK, you can currently get hold of six 5G phones; the Samsung Galaxy S10 5G, Oppo Reno 5G, OnePlus 7 Pro 5G, Xiaomi Mi Mix 3 5G, Huawei Mate 20 X 5G, and the LG V50 ThinQ 5G. The Samsung Galaxy Note 10 Plus 5G is also available for pre-order at the time of writing.
In Australia, only three 5G smartphones are available, and only two of these are available outright. The Oppo Reno 5G and the LG V50 ThinQ 5G can be be purchased for AU$1,499 and AU$1,729 respectively, while you'll need to look for a plan with Telstra in order to score the Samsung Galaxy S10 5G.
From:
https://www.techradar.com/news/what-is-5g-everything-you-need-to-know